Now that November has rolled around, I have been thinking a lot about how I want to decorate my home for Christmas. I find that if I think about what I want to do and how I want my home to look, I can accomplish TONS more than I would without a plan.
To get a little inspiration in my planning, I started scrolling through pictures of my own home from last year. Notice that I wrote, pictures of my own home. I decided to focus my pictures because I want to try using the decorations that I already own. So, I thought it would be fun to collect some of my favorite moments from Christmas time last year so that I can plan on how I want to use the same decorations but in different ways this year. Can't wait to show you what I come up with. But for now, let's take a look at how my home looked during Christmas time last year.
Entryway
Our entryway has undergone a little transformation from these pictures from last year. What I love about these pictures is that I totally embraced the color of this table and used it with my decor instead of trying to disguise it. Love how bright and cheerful the entryway looked.
Kitchen
The kitchen is a place that I don't really decorate but ever since I painted the pantry door with chalk paint, I feel that it's the perfect spot to change up for the holidays. Am easy way to bring a little Christmas cheer to your kitchen is by setting up a cocoa bar. Not only is it useful but super yummy!
Family Room
I loved having the Christmas tree in our family room last year, but this year I want to play around with the tree placement. Switching the placement of the tree location is such an easy way to bring a new look to your holiday decor.
Dining Room
I love using leftover ornaments to help me decorate the rest of the rooms in my home and the dining room is no exception! It's such an easy way to quickly decorate a little area in your home, making it look festive and colorful!
Bedrooms
I have to admit that the bedroom is one of the last room's I decorate with Christmas decor. But last year I loved decorating the bedrooms so much that I will also do it again this year! The best place to start (and most budget friendly) is to start with the sheets. I added a plaid sheet set from Target that instantly brought the room into Christmas mode and love it!
Outdoor Spaces
You can't forget about your outdoor spaces! We created a cozy little nook in our front porch and it was so amazing to sit out there with the fire going.
Want to see how I decorate this year? Make sure you subscribe below so that you don't miss a thing!
WANT FREE DESIGN INSPIRATION?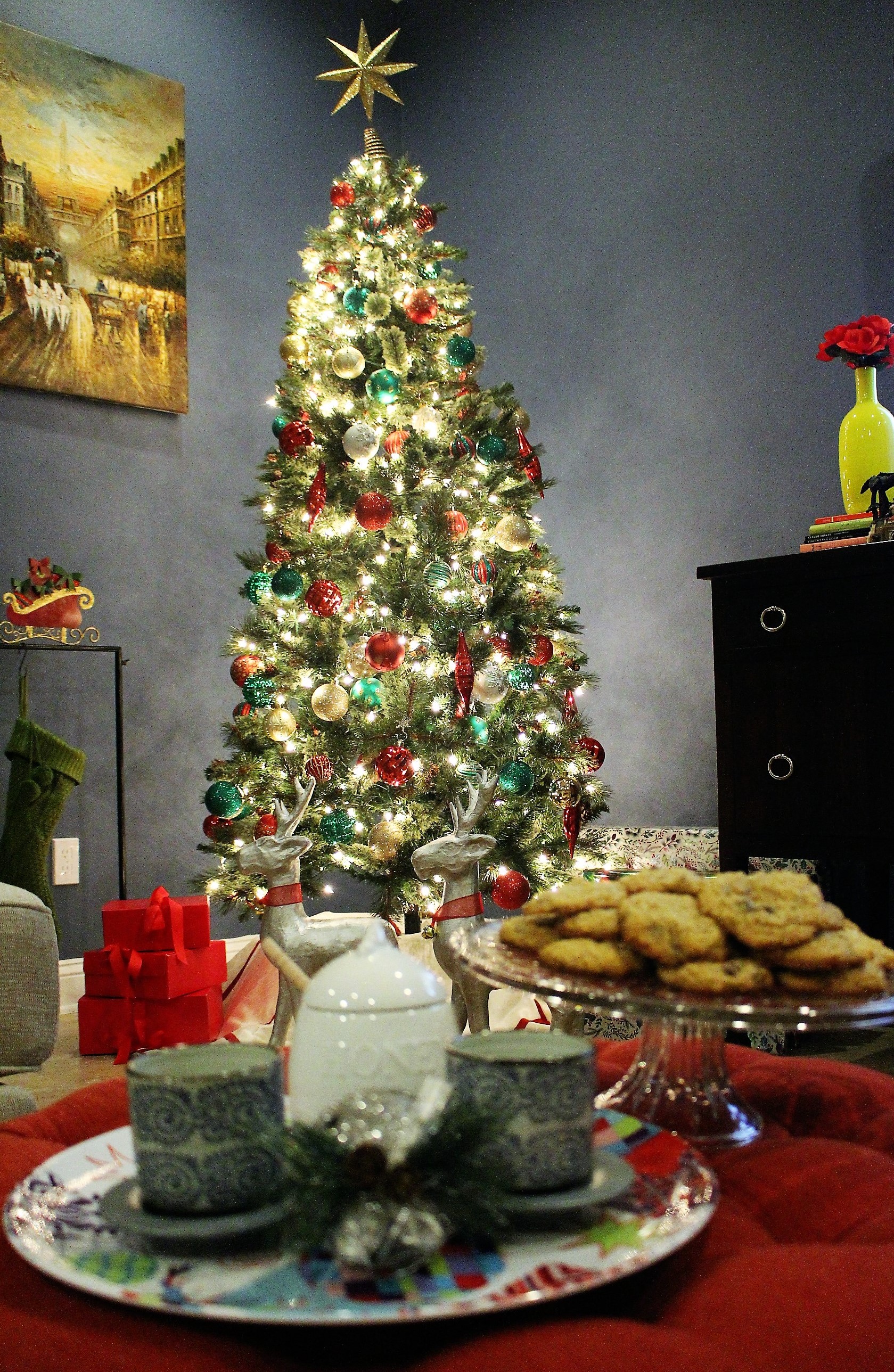 MY PASSION IS HOME DECOR AND DESIGN TO CREATE A BEAUTIFUL SPACE ON A BUDGET.
Sign up below to receive free design inspiration on a weekly basis!